Bush / Latin-Style Machetes, Sawback Machetes & Machete Saws, Tactical Machetes
Gerber Gator Machete Jr. with Nylon Sheath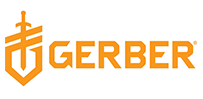 Blade Length: 10 3/4″
Overall Length: 19  3/4″
Gator Grip Rubberized Handle
Bush/Latin Style Dual edged, one side is serrated
High Carbon Stainless Steel with Black Oxide Finish
Primary grind established at factory but may require further sharpening for fine edge.
Heavy duty thick nylon sheath included
Availability:
Only 2 left in stock
Only 2 left in stock
Built just as tough as the Gator Machete, the Gerber Gator Junior Machete is shorter and more packable. The two-sided blade has both a fine edge for hacking brush and vines and a rough cut saw edge for cutting branches, limbs and small trees. It's a high-carbon steel shaft with a Gator grip handle. For back-country travel, when every bit of weight is accounted for, the Gator Jr. is the right machete.
What makes Gerber Gator Machetes stand out from the rest? Unlike many machetes on todays market the Gerber Gator Machete is one of the highest quality machetes you can buy. It's sturdy and is not unnecessarily heavy. When you put this machete to work it does not bend or flex unlike many other machetes on todays market. The high carbon stainless steel blade retains its edge after countless hours of use making it a highly reliable machete!
| | |
| --- | --- |
| Brand | |
| Blade Length | 10 3/4 in. |
| Total Length | 18 3/4 in. |
| Weight | 1 lb. |
| Weight with Sheath | 1 lb. 3 oz. |
| Width at Widest Point | 2 1/8 in, |
| Blade Composition | High-Carbon Stainless Steel |
| Blade Thickness (Above Handle / At Tip) | 2.2 mm. / 1.8 mm. |
| Blade Style | |
| Blade Detail | Black Finish, Primary grind established at factory but may require sharpening before first use. |
| Handle Features | Lanyard Hole |
| Handle Material | Rubber |
| Country of Origin | America |