Parang Machetes, Tactical Machetes, Weighted
Gerber 12 Inch Golok Machete with MOLLE sheath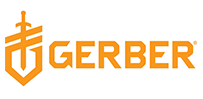 Blade Length: 12″
Overall Length: 19″
Gator Grip Rubberized Handle
High Carbon Black Oxide Coated Steel
Primary grind established at factory but may require further sharpening for fine edge.
Heavy duty thick nylon sheath included that has D rings, belt loop and MOLLE attachments.
Get an alert when the product is in stock:
Availability:
Out of stock
Out of stock
Built with full tang construction, the Golok is Gerber's version of the classic design. The Gator Golok Machete's sturdy handle wrapped in the classic Gerber Gator Grip keeps it snug in your hand while being leveled at underbrush. This knife expertly helps you manage the workload in record time for better results using comparatively little effort.
SLICE THROUGH VEGETATION
Possessing a thicker blade than any other machete in the line, the Golok is impressively adept at chopping. The thickness and grind of the blade provides high resistance to sticking in green wood. Traditionally used in SE Asia for agricultural purposes, the Gator Golok is well suited for any number of outdoor tasks. Textured Gator Grip on the handle keeps it secure, and the ergonomic shape makes it comfortable for extended use. Its hardened steel is constructed with a precision grind to cut with minimal exertion, allowing for less body strain and greater efficiency.
LONG TERM STRENGTH
The lightweight, solid handle of the Gator Golok Machete is designed for the long-term life of this axe. It includes a unique, adjustable paracord safety lanyard, and a high quality sheath. The sheath features dual D-loops, with a belt loop for multiple carry options.
| | |
| --- | --- |
| Brand | |
| Blade Length | 12 in. |
| Total Length | 19 in. |
| Weight | 1 lb. 11 oz. |
| Weight with Sheath | 1 lb. 15 oz. |
| Width at Widest Point | 2 in. |
| Blade Composition | Carbon Steel |
| Blade Thickness (Above Handle / At Tip) | 6.6 mm. / 4.1 mm. |
| Blade Style | |
| Blade Detail | Black Finish, Primary grind established at factory but may require sharpening before first use. |
| Handle Features | Lanyard Hole |
| Handle Material | Rubber |
| Handle Style | Quillon |
| Sheath Features | D Ring Attachments, MOLLE attachments |
| Country of Origin | America |
Based on 3 reviews
Only logged in customers who have purchased this product may leave a review.