Bush / Latin-Style Sheaths, Golok Sheaths, Parang Sheaths
Green Canvas 12 Inch Square Machete Sheath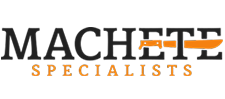 Designed for the Bidor 12 Inch Ray Mears and Chandong Parangs, but will fit most 12 inch Bush or Latin style, straight machete and parang/golok blades
Opening width is 2 1/2 inches
Heavy Duty Green Canvas
Double sewn, glued and riveted seams
Snapping handle wrap
Belt Loop Attachment
Get an alert when the product is in stock:
Availability:
Out of stock
Out of stock
We designed this sheath to fit the Bidor 12 Inch Ray Mears styled parang and the Bidor 12 Inch  Chandong Parang.  However, it will fit most 12 inch parangs, goloks, bush/Latin and other straight-ish blades.
We have the largest selection of machete sheaths in the world. Our machete sheaths cover many sizes and styles of machetes.   The Machete Specialists brand of sheaths are made specifically for us in Ecuador.  They are double sewn, glued and riveted with belt loop attachment and snapping handle strap.
Are you needing help finding a sheath to fit the blade you already own?   Do you have questions about which sheath will fit the blade you are purchasing? The best way to contact us is by emailing us at [email protected].   If you are inquiring about a blade that you didn't purchase from us, we will need to know the length of the blade, the style of blade, and the width at the widest point in order to help find a sheath that will fit.  We are more than happy to assist you!
| | |
| --- | --- |
| Brand | |
| Blade Style | |
| Blade Length | 12 in. |
| Total Length | 14 3/4 in. |
| Sheath Material | Canvas |
| Sheath Features | Glued, Riveted Seams, Sewn |
| Opening Width | 2 1/2 in. |
| Width at Widest Point | 2 1/2 in. |
| Enclosure Type | Slot Entry |
| Weight | 3 oz. |
| Belt Loop Attachment | Yes |
| Country of Origin | Ecuador |
Based on 1 review
Only logged in customers who have purchased this product may leave a review.