Bush / Latin-Style Machetes
Martindale 11 1/2 Inch Grooved Bush Machete w/ Square End Grip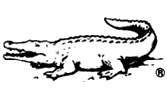 Blade Length: 11  1/2″
Natural Color German Beechwood Handle
Hot Rolled High Quality British Polished Carbon Steel
Primary grind established at factory but will require sharpening before initial use.
Not aesthetically pristine and may have minor imperfections that are not considered defective.
Sheath Sold Separately
Martindale Crocodile machete handles are made from German beech wood. The timber is cross-sown for maximum strength and stability. The handle is fitted to the blade with solid steel washers and rivets.
Machete Specialists carries a wide variety of Ralph Martindale products. These machetes are made in their manufacturing plant in Thailand.  The Martindale Crocodile brand blades are made from hot-rolled, high-quality British Steel that is produced in Martindale's own mill.
What sets the Martindale Crocodile blades apart is the tapered strip section used to better the chopping and cutting characteristics of the blade through optimizing the weight of the tool.
Each face of the blade has three grooves which assist the blade's removal from sapwood. The grooves extend to the tang of the blade to form a mechanical lock with the handle. This makes the Martindale "Crocodile" machete lightweight and easy to use.  Only the Martindale brand machetes are made from tapered steel and are sectioned with grooves to make this product distinctly better than other competing brands.
Based on 0 reviews
Only logged in customers who have purchased this product may leave a review.