Bolo Sheaths
Orange Canvas 14 Inch Bolo Machete Sheath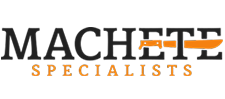 Will fit most 14 – 14  1/2 in bolo machetes
Opening width is 2  1/2inches
Zipperd Side Slide-in Blade Enclosure
Heavy Duty Hunter Orange Canvas
Double sewn, glued and riveted seams
Snapping handle wrap
Belt Loop Attachment
Get an alert when the product is in stock:
Availability:
Out of stock
Out of stock
This bolo machete sheath was designed for both the Tramontina 14 Inch Bolo and Imacasa 14 1/2 Inch Bolo machete.   However, it will fit most 14 bolo machete blades to  15 inch bolo machete blades. It has a side slide-in zipper enclosure. In some countries, this would be called a machete scabbard or a matchet scabbard or a matchet sheath. The term cutlass scabbard or cutlass sheath has also been used.
Machete Specialists has the largest selection of bolo machete sheaths in the world. Our machete sheaths cover many sizes and styles of machetes.   The Machete Specialists brand of sheaths are made exclusively for us.  They are double sewn, glued and riveted with belt loop attachment and snapping handle strap.
Are you needing help finding a bolo machete sheath to fit the blade you already own?   Do you have questions about which sheath will fit the blade you are purchasing? The best way to contact us is by emailing us at [email protected].   If you are inquiring about a blade that you didn't purchase from us, we will need to know the length of the blade, the style of blade, and the width at the widest point in order to help find a sheath that will fit.  We are more than happy to assist you!
Custom Bolo Machete Sheaths are also available. Contact us.
Sheaths and scabbards are an important part of machete ownership. The best machete sheath is one that has a proper blade fit, protects the owner from injury when being carried or hung from a belt, and helps to prevent blade rust or corrosion. It is good machete care practice to never put a blade away dirty or wet. Buying the best machete sharpener for your blade is also as important as owning a sheath. We carry the top machete sharpeners on this site and provide instructions on how to sharpen a machete.
| | |
| --- | --- |
| Brand | |
| Blade Style | |
| Blade Length | 14 in. |
| Total Length | 21 1/4 in. |
| Sheath Material | Canvas |
| Sheath Features | Glued, Riveted Seams, Sewn |
| Opening Width | 2 1/2 in. |
| Width at Widest Point | 3 3/4 in. |
| Enclosure Type | Zippered Blade Enclosure |
| Weight | 4 oz. |
| Belt Loop Attachment | Yes |
| Country of Origin | Ecuador |
Based on 1 review
Only logged in customers who have purchased this product may leave a review.